The FRXSH Mousse Chef sets new standards among frozen food processors. We haven't reinvented the wheel, but we have turned it decisively.
Premium: from quality to functionality
The FRXSH Mousse Chef has been thought through down to the last detail. The result is a premium product that is convincing in every respect, from its application and quality of results to its cost-effectiveness:
Frozen and unfrozen! Processing quality in perfection
Ultra-fine moussing of frozen foods without thawing is one of the FRXSH Mousse Chef's absolute core competencies. It also impresses with its outstanding result quality when whipping and cutting non-frozen foods. At the same time, the adjustable moussing, cutting or whipping intensity gives perfectionists the unique option of making an individual statement about the aroma, structure and mouthfeel of a dish.
Design meets function! The operating concept - simply user-friendly.
With the FRXSH Mousse Chef, progress in the professional kitchen gets a smart face. Navigation is via an intuitive color touchscreen. Pre-programmable recipes speed up the workflow in the kitchen. Optimum ease of use is also the order of the day when it comes to appliance handling, with details such as the protective cup lock or the removable base plate. In this way, FRXSH ensures the best possible user experience and remains up to date even for future requirements.

Lifetime Value! Quality that lasts.
The maintenance-friendly product concept of the FRXSH Mousse Chef is consistently designed for sustainability right through to after-sales service with guaranteed spare parts supply. It is based on experience, quality and Swissness in engineering, production and service. This pays off in the long run.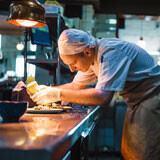 An all rounder for small kitchens
Efficiency booster for space and staff shortages

The FRXSH Mousse Chef is versatile. It allows the preparation and finishing of menu components to be decoupled in terms of time. This means a considerable increase in throughput even in the tightest of spaces and with staff shortages - including à la minute quality.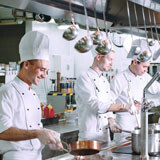 The specialist for each kitchen station
A guarantor for result quality and throughput

Indeed, the FRXSH Mousse Chef offers unique processing possibilities and time savings for every post in the professional kitchen. The harder it is to share it with others - everyone from the gardemanger to the patissier agrees. Once integrated into the process, no one wants to do without the FRXSH Mousse Chef.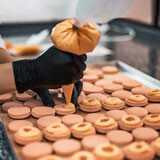 Patissier
Experimenting with recipes for success

Cupcakes, ice cream, mousses or creams: the FRXSH Mousse Chef supports patissiers in their joy of experimentation and promises reliable success. Once developed, successful recipes for desserts can be reproduced with reliability.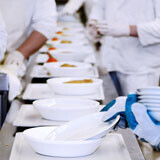 Care Gastronomy
Smoothfood without compromise

Smoothfood made with the FRXSH Mousse Chef improves the quality of life for people with chewing and swallowing difficulties. This is because tasty and nutritious foods can be processed in no time into ultra-fine, fiber-free consistencies for healthy, flavorful enjoyment without hesitation.


Consistencies with the Mousse Chef